About Us
Big Barn Ranch
Our Breeding Program
At Big Barn Ranch we selectively breed Missouri Fox Trotters looking for those characteristics that define great Versatility, Ranch and Competitive Trail Horses. We use only the finest bloodlines that lend themselves to these disciplines.
Using the example of the original Natural horseman, the Vaqueros, we start our horses gently and slowly so that they will become polite, curious, confident and responsive partners.
Many of our foals are imprinted at birth. This imprinting is then followed up with groundwork that begins to instill in them the qualities of politeness, confidence and responsiveness. As weanlings they are introduced to the halter, groundwork, clippers, vet prep, and are easy to catch.
Daily interaction with each foal continues and as two year olds they are started under saddle, very lightly ridden and put out to pasture to mature.
At three they begin a program which strengthens their bodies, builds endurance and engages their mind.
When you buy a Big Barn Ranch Horse you are not only buying the horse, you are buying excellent training. Training by the best natural horsemen and experts in their disciplines. We will do our best to ensure that your partnership with your horse is a good one.
Our own personal experience with buying horses is that you can buy a trained horse and know what you are getting, or pay less for your horse, search around for a proven trainer and maybe you will get good results. Our trainers are proven and you will not only see the results, you will ride the results!
Pricing
Our horses are available for sale as weanlings on up to finished 6 year olds and older and more seasoned.
Pricing is based on breeding, level of training, talent and looks. All prices are subject to change without notice or publication as training levels advance.
Weanlings start at 2,000, yearlings at 3,500. Select three and four year olds start at 5,000.
Be a part of the American Cowboy culture. And ride a horse Made in America, the "Missouri Fox Trotter".
Lynne Burger
& Waland Burger of
Big Barn Ranch
Stockton
, MO
- Owners
Brooklyn, New York, and West Texas--are there Missouri Fox Trotters in these two places? Probably not. The only horses in Brooklyn are owned by the police and West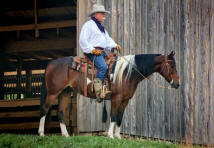 Texas has no grass! But my husband, Waland Burger' (from West Texas), and I (from Brooklyn) were lucky enough to discover the state of Missouri.

While looking for property there, we came across a pasture with a good-sized herd of horses grazing in it. There had to be at least 50. We had no idea what breed they were. We would drive to the pasture with a bag of carrots, call to them, and they would come a-runnin. right up to us!
I would turn to my husband and ask, "Is this safe?" Being a brave man, he would say, "Sure it is." Lucky for us, they were Missouri Fox Trotters! Can you just imagine! I'm talking a herd of thunderous hooves coming at us, and I'm standing there with a bag of carrots!!
It was the horses' beauty and sweet dispositions that made us start looking for some Missouri Fox Trotters of our own. At the time we knew nothing about their awesome smooth gaits, how well they covered ground on the trail, that they were cowy, and also great versatility and competitive trail horses. Well, now we know and have a herd of our own.
We fell in love with, not only the horse, but the cowboy lifestyle, too. Its sense of community, the social life, and the pride in God and country.
We discovered that not only is the Missouri Fox Trotter beautiful and smooth gaited, but it is also extremely talented in other areas, like ranch work, versatility events such as jumping, and competitive trail riding. Now, being a Brooklynite married to a Texan, when the cow-horse combo came together, we both knew we had found our niche!
Since our first exposure to Missouri Fox Trotters, we have watched and experienced first-hand these talented horses beating the competition at ranch stock shows, excelling at roping and cow cutting, winning versatility events, and outgunning all comers in competitive trail. And three of these fabulous horses (owned by Missouri Fox Trotting Horse Breed Association members) are contenders in the "America's Favorite Trail Horse" competition and will appear on a Reality TV show in September of 2011. A first ever!!

So, you can see that our beloved Fox-Trotters can do it all. They really can.

Contact Us.

View some of our favorite photos by clicking here.