Our Sold Horses
Our list our horses that have found new homes.


SOLD

Dude

SOLD




his striking chestnut and white tobiano Missouri Fox Trotter is BBR "Dude". He is out of Storm's Prince C. on the topside and Frank's Country Splash, on the bottom. Dude was foaled on June 23, 2010, standing 14.2 hands..


Dude is just making his debut and will be ready to take you down the trail in style in the spring of this year.Dude is just making his debut and will be ready to take you down the trail in style in the spring of this year.


Dude has a great disposition, gets along well with other horses. (In fact he loves to play!) Dude has very smooth gaits, is sensitive to seat and leg cues and is a quick learner. In fact in the video you are watching he had only been under saddle three months.

Here at BBR we would consider him to be "green broke" at the point of this video. The price for Dude includes another month of training, which will be completed this Spring. During that time Julie Moore will put plenty of trail hours on him as well as perfecting his gaits, transitions and movements.

Dude bathes, clips and loads with ease. Is good with the farrier, leads well and ponies with another horse, farm truck or 4-wheeler.

If you are interested in a "special" and "striking" trail horse, don't let this one get away!

SOLD

BBR's Sun Ray's Liberty
SOLD
aka Liberty
MFTHBA Reg #09-99498
DOB 7/4/2009

BBR Sun Ray's Liberty -- - Liberty is a five year old 15.2H Sorrel registered MFT Mare and has just started her training with Julie Moore. She is very quiet and confident and is very naturally gaited. She is very stoutly built and will make a great trail mount for a taller rider.
Trail ridden extensively alone and in groups at times this girl is fearless. Wonderful ride and a pleasure to be around! Please call us for updates on her training.

SOLD

GOLD DIGGER'S DUSTY SON

SOLD

Golden Colored with White Mane and Tail (Palomino) Gelding
Registered Missouri Fox Trotter #04-81154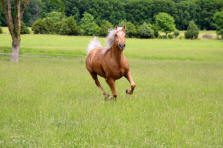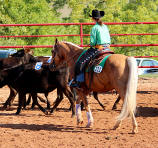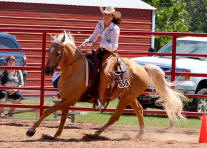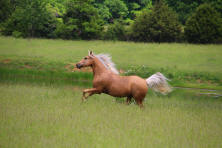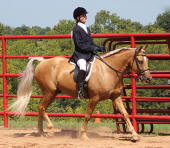 Own a Big Barn Ranch personal horse! This handsome, dappled dark Palomino is Gold Digger's Dusty Son. "Dusty" foaled 4/30/04 and he stands at 14.3 hands and is strongly and beautifully built. "Dusty" has been a BBR personal horse for several years and he can do it all!
He is a very experienced Versatility, Cow, Trail and Competitive Trail Horse. He also has done very well at the Introductory and Basic levels of Western Dressage. He is an amazing horse.

That claim is backed up by his performance record. Three time Youth Versatility World Grand Champion; World Champion Western Pleasure, 2013; Reserve World Champion, Western Pleasure 2013. We introduced Dusty to Western Dressage this year, and he did amazingly well at the Schooling Shows.

Dusty neck reins, moves off the leg, side passes, turns on the haunches, turns on the forehand, does shoulder-in, haunches in, backs, works gates and other trail obstacles. He is a very confident trail horse. Like I said, he does it all!

He has exceptional, "correct" gaits that will take you down the trail smoothly and with a lot of style. He is very showy.

To be able to appreciate all that this magnificent horse can do, he really needs a good intermediate or advanced rider. Either one would thoroughly enjoy all that this horse is capable of. He is very special.

Needless to say he trailer loads easily, comes to you, stands very well to groom (he loves attention!). Dusty gets along well with other horses and is very affectionate.
We are looking for a "special" forever home for him.
Please "apply" by contacting us. Come and ride him and see for yourself!


Shakkaa

SOLDSOLD
Boogie
SOLD
BBR Franks Suprise Boogy
MFTHBA Reg. #09-98427 DNA - Gold Papered $5500.00
~~~~~~~~~~~~~~~~~~~~~~~~~~~~~
SOLD

Chico

SOLD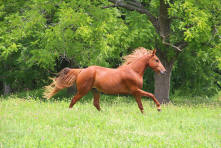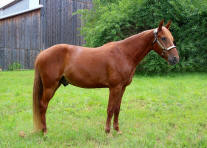 SOLD

Misty's Mud Slinger

SOLD

aka Slinger

MFTHBA Registration #05-84804

D.O.B. 2-23-05

15.2 hh

Slinger has extensive Versatility and Ranch Horse training and experience rounding up cattle at Big Barn Ranch. He has also been shown successfully in Versatility events and was the first Semi-Pro Super Foxtrotter High Point winner in 2013. Slinger, neck reins, moves off the leg (sidepass, turn on the haunches, turn on the forehand), backs and works a gate as well as other trail obstacles. Slinger is a very confident trail horse, has exceptionally smooth ground covering gaits and a big motor to take you down the trail in style. At 15.2 Hands Slinger will make a suitable Trail Horse for the taller Trail Rider.

$8500.00

Contact Lynne at

lynne@bigbarnranch.com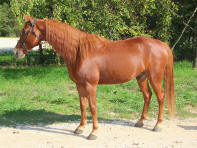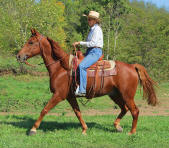 ~~~~~~~~~~~~~~~~~~~~~~~~~~~~~~~~~~
SOLD

Abby

SOLD

Standing at 13 hands at 3 years old this beautiful filly will be double registered MFTHBA & MFTPHR (Pony)
$5500.00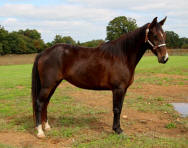 ~~~~~~~~~~~~~~~~~~~~~~~
SOLD

Mabelline New York
SOLD
MFTHBA Reg #05-85046
a.k.a. "Alena"
Alena is a beautiful 14.3H nine year old gold papered, MFT Tri Color mare. Her sire is Patriot's New York New York and her Dam, R. Southern Beauty is out of Southern Sunrise. She has very correct gaits and is a very comfortable going down the trail. She has exceptional ground manners and a sweet disposition. Alena will go down the trail confidently alone or with a group. She has been schooled over trail obstacles; bridge, teeter-totter, gate, back-thru, tire drag, tarp, etc. If you are looking for a great looking, quiet trail companion or a mare you can take into the show ring, you need to come to Big Barn Ranch and see Alena.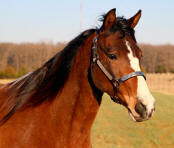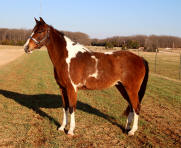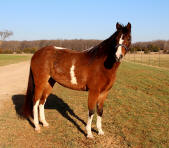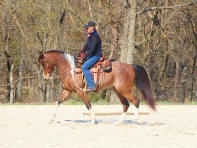 SOLD

Avalanche

SOLD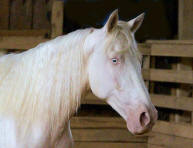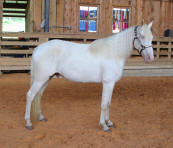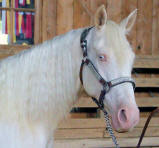 SOLD

Magnum

SOLD


Classic Champagne
Pride's Traveling John John xx Sun-Ray of Hope
DOB 5/10/11

Back to Top


SOLD Frank's Country Splash SOLD

Sold

Anu

Sold


DOB 7-16-10

S

OLD

Kiowa Dove

S

OLD


Buckskin



SOLD Mercedes SOLD
BBR Patriot Sam's Mercedes
aka "Mercedes" - 14.2 hands
MFTHBA Registration #09-99151 DNA
DOB: 3/29/2009, Gender: Mare
Gorgeous Bay
Mercedes is a gorgeous bay mare that will take you down the trail or into the show ring with style. This beautiful little bay mare really lives up to her name; she is a real "Mercedes", come take her for a "test drive"! She has basic training in gaited Dressage, Versatility, trail riding and trail obstacles. She has a wonderful sweet disposition, smooth ground covering gaits, great ground manners and would be an appropriate mount for anyone who has at least some riding experience. Because of her age, we would not recommend her as a horse for a beginning rider or young child. Trained by Julie Moore, using the Sound Gaited Horsemanship approach to training.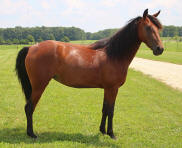 $5500.00

Video #1
Video #2
Video #3
Video #4
In her video

2 Mercedes is ridden by Johanna Merk, who is visiting us from Bavaria Germany. This was the second time Johanna had ridden Mercedes.







SOLD

Sun-Ray's Bay-Ray aka "Artemus"

SOLD


MFTHBA Registration #06-90184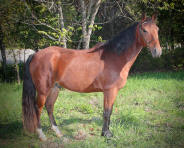 MFTHBA Registration #06-88729
Cyndee is a beautiful Homozygous, 2006 Missouri Fox Trotting Mare and is the dam to Bronx New York



SOLD

"Special Agent Sam" a.k.a. "Sam"

SOLD




SOLD Guinness SOLD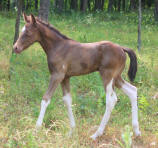 Duvall
Buckskin on left
SOLD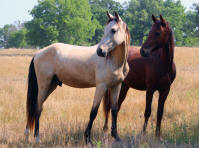 Blackjack
Sired by Patriot's Scudbuster and out of D.M. Never Ending Zipper
$4500.00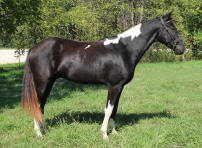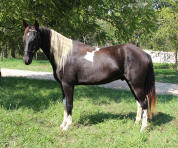 Perfection's Red Alert aka "Mya"
MFTHBA Registration #06-90098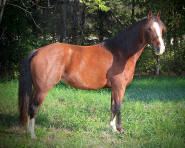 Contact us at Big Barn Ranch if you have questions or comments.