Press Releases

Press Release 2010:
Special Equestrian and Youth Rider Win World Grand Championships
It was an exciting time at the 2010 Missouri Foxtrotter Show and Celebration in Ava Missouri. The youth had a great time riding their horses and winning garlands, belt buckles and ribbons! The show and celebration was held from September 4th through the 11th at the MFTHBA World Headquarters in Ava Missouri.
Special Equestrian Rider Christopher Wolters, 23 of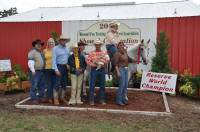 Stockton Missouri won Reserve World Grand Champion in three events; trail class, barrel race and pole bending.
Nichole Copple, 14 of Fairplay
Missouri won Youth World Grand Champion in Youth Versatility, and Reserve Youth World Grand Champion in Ranch, riding for Big Barn Ranch in Stockton Missouri.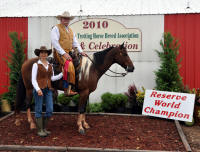 Contact us at Big Barn Ranch if you have questions or comments.


Feel Free to contact us by clicking on the BBR logo anywhere in our site.