Recent News
4-27-13 -

"Big Barn Ranch began the Show Season well at the Spring ASHA Show, conducted by the Missouri State University Ranch Horse Team and held at the Pinegar Arena in Springfield. Diva and Julie took 3rd place in Open Working Cow Horse; Open Pleasure and Open Reining. Lynne and Dusty took 2nd place in Novice Cutting and 4th in Novice Trail. (The Novice class was very large with 11 quarter horses competing!). And Waland and Slick took 5th in the Non-Pro Class. ASHA stands for American Stock Horse Association. All the horses present excluding the Big Barn Ranch Horses were Quarter Horses. The Judge was very impressed with the training and ability of our Missouri Fox Trotters! We can do this. Come on out for these shows and bring your Fox Trotters!"

1-27-13 -

Two Big Barn Ranch horses and their riders have been chosen by the Missouri Fox Trotter Board of Directors to represent the Missouri Fox Trotting Horse Breed Association at "Equifest Kansas". "Slick"and rider Waland Burger; and "Diva" and rider Julie Moore will demo once a day. This is quite an honor and we are looking forward to introducing as many people as possible to the versatile and smooth Missouri Fox Trotting Horse. Equifest runs from February 8-10. To find out more about Equifest and see a Schedule of Events go to

http://www.equifestofks.com/.

Originally published in Jan/Feb 2013 MFTHBA Journal:

Big Barn Ranch Team Wins a Wallful of Awards
at FOSH Championship Show
By Josephine Cozean Styron
"A wallful of awards." That's how trainer, coach, and exhibitor Julie Moore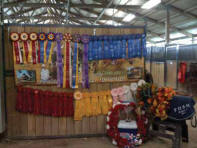 happily described the success of the Big Barn Ranch team at the 2012 North American Pleasure Gaited Horse Championships Fall Region 2 show, held October 6 and 7 at the National Equestrian Center, Lake St. Louis, Missouri.

The show was sponsored by NAPGHC, Friends of Sound Horses (FOSH) and the GaitWay Horse Association. "The FOSH show was very well organized, and they had a good assortment of gaited horses," said Moore, of Rogersville, Missouri. "The National Equestrian Center is a beautiful, first-class facility that is so comfortable and convenient for the exhibitors. The barns are connected to the large, beautiful arena so even during cold and rainy weather, everyone stays dry and warm," said Moore.

The team of Lynne and Waland Burger's Big Barn Ranch, Stockton, Missouri, won across the board. Here's the rundown:
Waland Burger with New York City Slicker placed in the top 5 of the Best of Show and won the Open Gaited Breed (OGB) 3-gait Grand Championship. They won Reserve Champion in both the OGB Country Pleasure and OGB Gaited Pleasure. The duo also earned blues in five classes and took seconds, including the Mars and Venus class with Julie Moore. Lynne Burger, on Gold Digger's Dusty Son, won the OGB 3-gait Reserve Grand Championship, as well as four second placings.

Team member Staci Ratti, riding Sun-Ray's Bay Ray, was also in the top 5 Best of Show and won the Open 2-gait MFT Championship class. The pair also placed first in four other classes and took home a second place. Peggy Dyke, riding Yankee's Special Sweetheart, won the OGB Gaited Pleasure Championship and took first in OGB E/W Country Pleasure.

Julie Moore, riding Patriot's Scud Buster, captured second-place in the Open Gaited Pleasure and took two third-places. Moore also showed The New Yorker, winning the OGB Trail Obstacle class and the OGB Western Pleasure 3-gait class, as well as a second-place. In addition, Team BBR carried home seven additional third-places and one fifth-place in a mix of MFT and OGB classes.

"It felt very good to win because the judge (Martha Chatten of Estell Manor, NJ) was good. If she picked you, you knew you had done a good job. We also won in
several of the Open Gaited Breed Classes, which made you feel even better about your Missouri Fox Trotter!" laughed Lynne.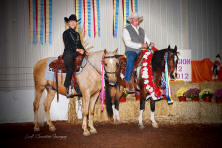 "Every time you show, you are an "Ambassador of the Breed." I think this is even more so when you compete against other breeds. It makes a huge impression on the show participants, especially the ones you beat, and the spectators," said Lynne. "One of the spectators at this show is now the proud owner of one of our two-year-old geldings. She saw her first Fox Trotter at a FOSH show." The FOSH Region 2 Championship show was well organized and well attended, with over 200 entries," said Moore. "The BBR team extends their appreciation to Teresa Bippen and her show management group for putting on such a successful show. We encourage any MFT owners who enjoy showing their natural and versatility Fox Trotters to participate in next year's show. See you there!"


View some of our favorite photos by clicking here.