Testominals
Hello Lynne,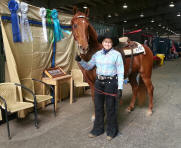 When I started my horse search I wanted a gelding that 'had been there and done that', versatile, solid, well trained with a winning personality. It was a tall order but I knew what I wanted and was willing to put in the work to find it. I found your website, read about the ranch, its training philosophy and even spoke to your trainer, Julie Moore. I liked what I saw and clicked on horses for sale. Well, there he was, Misty's Mud Slinger. Under his photo was his bio listing everything I was looking for and them some. After a weekend visit and test rides, I knew he was the one.

I've said it before, and it continues to be true: this horse is amazing! He is a kind and gentle soul that is willing to try anything I have asked of him. He has proven his stability on trail rides and it instills me with confidence in him. When I asked him to train and compete in the WDAA World Show, he responded willingly and I was very pleased with how he handled himself.

Recently we had the opportunity to travel to a cattle training barn for some practice. I know you said he was a cow pony but I wasn't sure exactly what that meant.......until we got in front of little black cows. Whoa Baby, He likes them cows!! He came alive, watching and planning the cows and his next move. So that is an activity we will definitely do again. He's a rock star!



He is a happy guy who sticks his nose in my pockets looking for goodies, hangs his head on my shoulder to get love pats, and who has completely captured my heart.
I may be a little biased but he is the best horse ever!! Trail rides, dressage shows, chasing cattle, he is a willing partner and I'm damn glad to be along for the ride.

Thank you for my forever horse,
Debby Morris and Misty's Mud Slinger
~~~~~~~~~~~~~~~~~~~~~~~~~~~~~~~~~~~~~~~~~~
Congratulations Carla on your new partner Lad.
"I had been looking for a special horse for several months since my much loved gelding developed laminitis and equine metabolic syndrome.
I ran across the website for Big Barn Ranch and talked to Lynne for several months about what I was looking for before I finally made it to their place. After looking at several horses, I found Lad-my 4-legged soulmate. I couldn't be happier with him. I had the opportunity to spend a couple of days with Lynne and Waylon and their trainer Julie Moore. They are very honest people and have their buyers and the horses best interests at heart.
All of their horses are friendly and they like people. Their natural horsemanship training is incredible. It really shows in my horse Lad. He settled right in and I began riding him almost immediately. He is exactly like they said he was. There were no surprises when I got him home.
You won't find nicer people or better horses than those at Big Barn Ran
ch."

Carla Johnson
~~~~~~~~~~~~~~
BBR Guinness JJ and here is her testimonial<![if !vml]> <![endif]>
"THE PERFECT MATCH"
"I started by asking Lori Northrup for the name of someone who was raising Fox Trotters naturally. She gave me two names to pursue. I sent them both Emails. Both of them responded but Lynne Burger of the Big Barn Ranch wanted to know specifically what I was looking for and sent me pictures of horses which fit my description. She waited patiently when I delayed my purchase because of remodeling costs. When I returned almost a year later, she sent wonderful new pictures and invited me down to visit and ride. Three days and twelve horses later I found my love. My local vet said he was the best behaved eighteen month old he had ever handled. Guinness Dan is a handsome, healthy, sweet, gold certified spotted classic champagne Fox Trotter and I am madly in Love . I owe it all to the Big Barn Ranch!'"
----- CeCe Luecking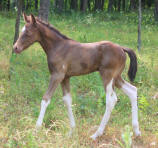 View some of our favorite photos by clicking here.

See what a few of our happy clients have to say.